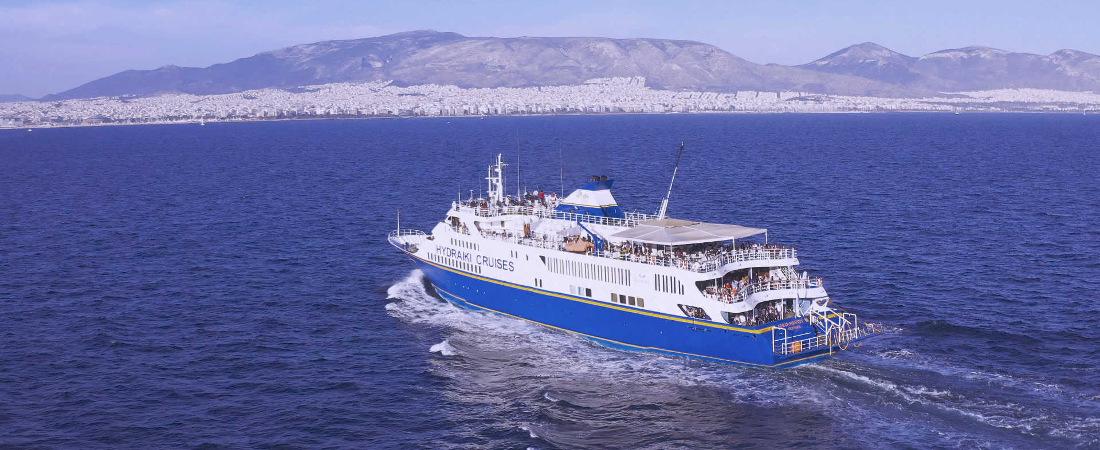 Join Us on the Most Beloved One Day Cruise from Athens to 3 Islands – Hydra, Poros, Aegina!


Relax under the Greek Sun And Have Fun With Entertainment and  Music

Enjoy this One Day Cruise from Athens to 3 Islands Aegina – Poros – Hydra which includes Lunch Buffet on Board, Multi Lingual Guides and Greek Traditional Folklore Show on Board. During the booking procedure you can add Pick Up Round Trip Service from most Hotels in Athens City area (EXTRA COST).
Discover the beauty of Hydra Island and stroll around the little stone paved streets on the back of a donkey – the main transport here on magical Hydra Island.
Visit the enchanting Poros Island and walk by the citrus, pine trees and windmills.
Explore the lively Aegina Island – the perfect destination for the independent traveler –with its numerous sand and pebble beaches.
Book Now and we Guarantee – You will come back for more…

So, what are you waiting for? Let's sail together!
You only need to bring your camera…
We'll bring the good mood!

Must See

Clock Tower on Poros Island

Donkeys on Hydra Island

Temple of Aphea on Aegina Island
What to Expect in the One Day Cruise from Athens:
*Embarkation 07:30AM – Disembarkation Approx. 19:30PM
On this One Day Cruise from Athens to Aegina, Poros & Hydra,  our Officers and Hostesses will welcoming you and invite to Main Lounge or to one of the spacious open decks, from where you can enjoy the fascinating view as the ship leaves the port.
*If Round Trip Pickup Transfer is selected (Extra Charge), our personnel will meet you at the lobby of your hotel in Athens to transfer you to the port.
After departure, our Multi-lingual Guides will meet you in one of the Lounges, to give you all necessary information concerning the cruise program and tips about the islands. This will be the chance to get answers to any questions you might have.
Arriving to the beautiful Hydra island, the first stop on the One Day Cruise from Athens, you will see the scenario from which many artists got inspired, like Picasso and Sagale. Many movies were filmed here, like Sophia Loren's movie "Boy on a Dolphin" and Melina Merkouri's "Phaedra".
When disembarking, you can walk around the small narrow stoned streets or explore the town in the traditional "vehicle" – the saddled donkey! Captivating seaside walks, crystal clear water, traditional fine-craft shops… The beauty of Hydra will catch you!
Leaving from Hydra, on the way to Poros Island, the Buffet will served.  Taste the gastronomic creations of our Chef!
The second stop on this One Day Cruise from Athens is Poros Island, separated from the Peloponnese by a narrow strait. It offers a very enchanting view, with yachts, fishing boats and the Clock Tower. You'll have free time in Poros to stroll around the small picturesque streets of the island.
Monastery of Saint Nektarios on Aegina Island