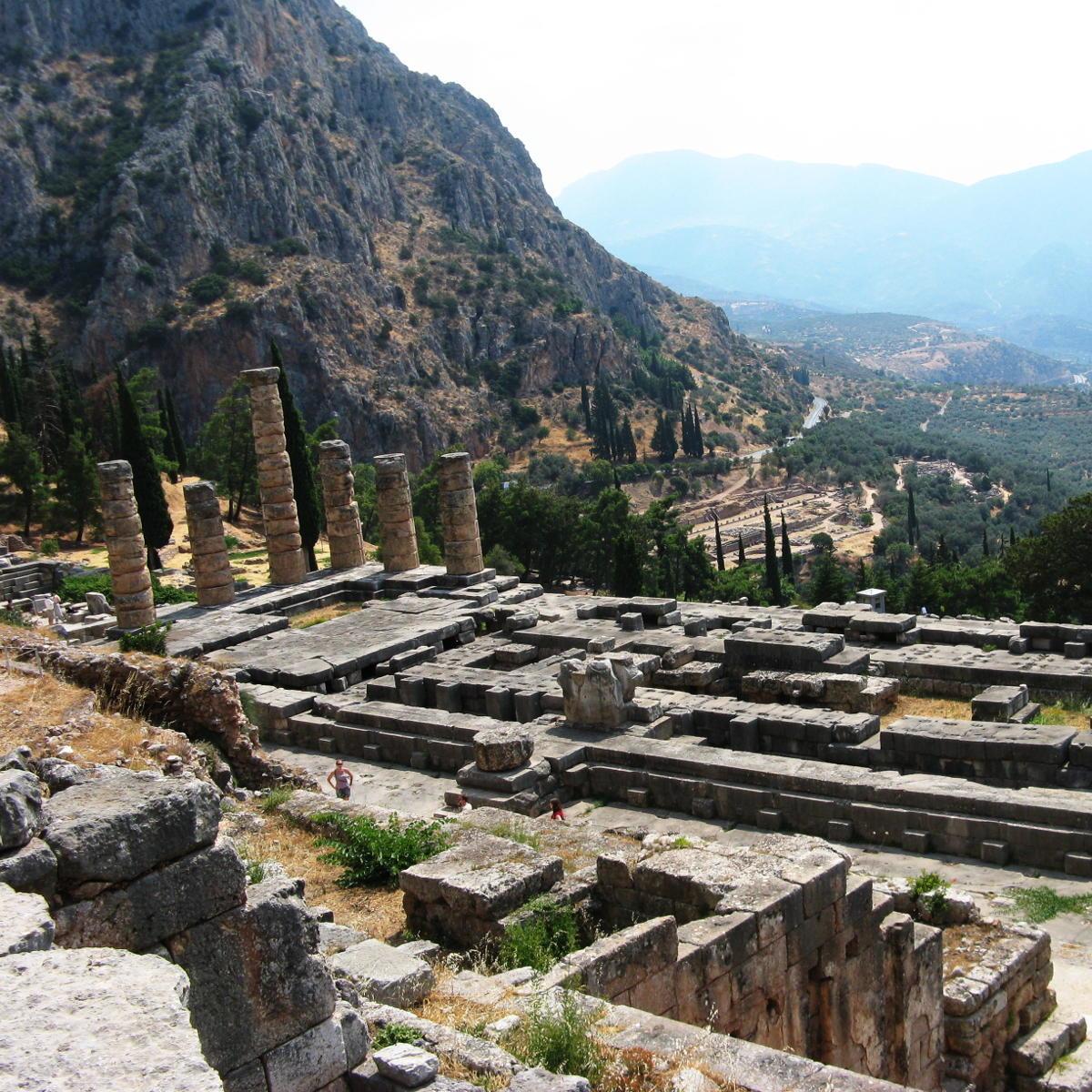 Delphi Tour: Archaeological Site, Museum of Delphi and Arachova Village
Explore the famous UNESCO-listed Classical site
Delphi Archaeological Site was considered to be the Center of the World in Ancient Greece. Moreover it is one of the most important archeological digging sites in Europe. With our Delphi Tour, you can admire the famous monuments, Temple of Apollo, the ancient stone engravings of 'Know Thyself' and 'Nothing in Excess', used in the Socrates philosophy works. Most of all, explore the rare historical treasures dated from 15th century BC in the Museum in Delphi . Get a chance to see the famous long lost – wonders of the "Bronze Charioteer" and "Sphinx of Naxos".
Finally, on the way back from the One Day Delphi Tour, we spend time at the traditional Handcrafts Arachova Village. Where you have the opportunity to wander around the picturesque stone houses, enjoy the colorful scenery of one of the most famous destinations in Greece.
Places We Visit
What to Expect – One Day Delphi Tour with Arachova Village:
Delphi Archaeological Site is recognized by UNESCO as a World Heritage Site, for its influence in the Ancient world. Furthermore, as evidenced by the rich monuments built there by most of the important ancient Greek city-states, demonstrating their fundamental Hellenic unity. On our way to Delphi Archaeological Site, we pass by Thieves the Kingdom of Oedipus, driving with our Professional Guide.
First we stop at the Delphi Archaeological Site, "the Navel of the Earth". We visit the Museum of Delphi , which houses an impressive collection of Ancient Delphi. You will see the famous Bronze Charioteer, the Statue of Antinoos and the Ancient Sanctuary. You will also have the opportunity to admire all the renowned ruins of the "Omphalos" (Navel) of the Ancient world. You will feel the mystery in the Temple of Apollo in Delphi, where Pythia delivered her prophecies while seated on her tripod.
On the way back we visit Arachova Village, which is a traditional Greek Village known for its famous handmade carpets. Arachova Village  is located on the slopes of Parnassus mountain at an altitude of 1000 meters. Because of its panoramic view, uphill small houses and cobbled streets, during the last decade it has been transformed into a cosmopolitan center of winter holidays. The high altitude as well as the traditional architecture make Arachova Village one of the most picturesque mountain villages of Greece.
On our drive back to Athens City we pass through the cities of Levadia and Thieves. Arrival around 06:30p.m.